Food Service Info
Let us make it easier for you to feed 'your' people! Simply add water to these delicious, nutritious and satisfying foods.
Low skill level is required to prepare our products as only water is needed and either simmering or simply sitting (couscous).  Just follow instructions on packet! Great for apprentices or kitchen hands to prepare – save on wage costs.
Bidfood, John Lewis and Galipo Foods all supply in Adelaide and South Australia and Deluxe Foods and Quality Foods supply Queensland or contact us directly for other states (working on getting more distribution interstate!).
We are HACCP accredited
Wholesale only – Available in 1kg and 10kg sizes.
Please contact Jacqui Good on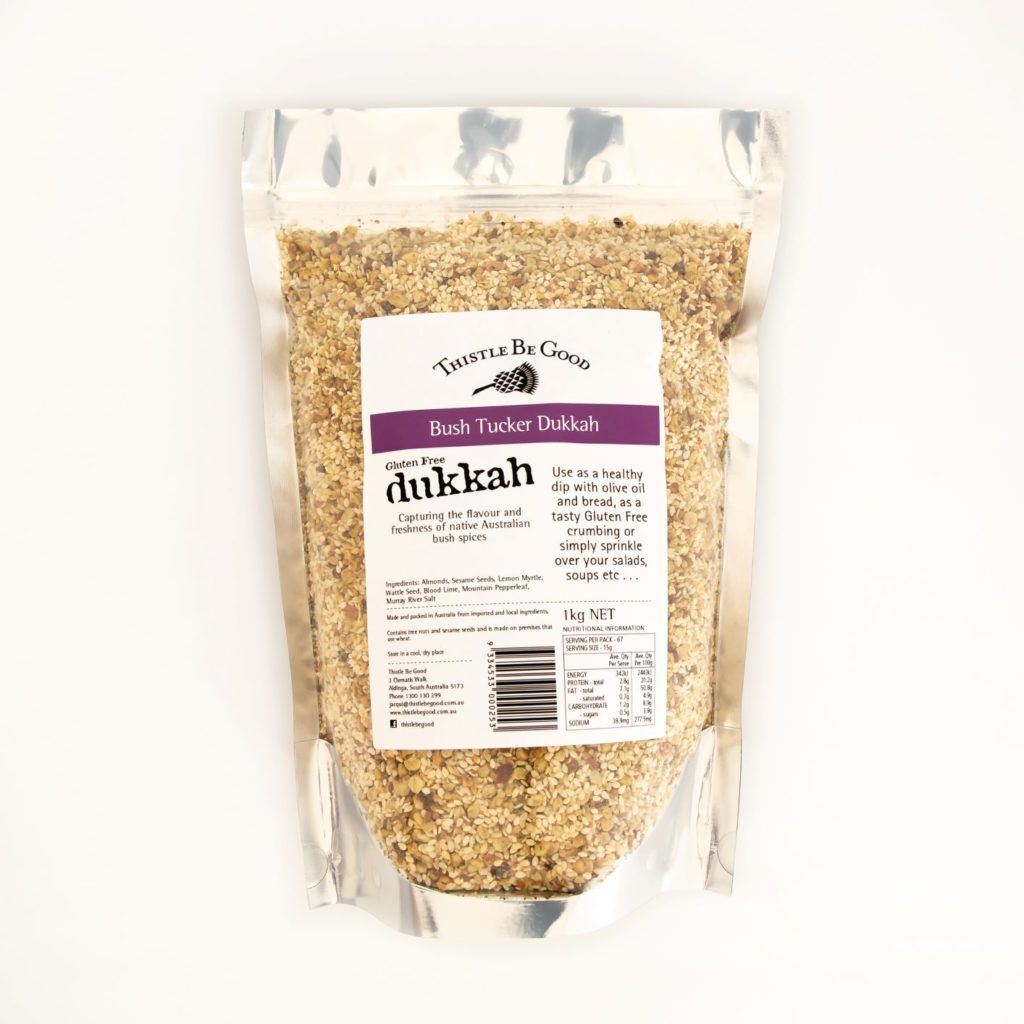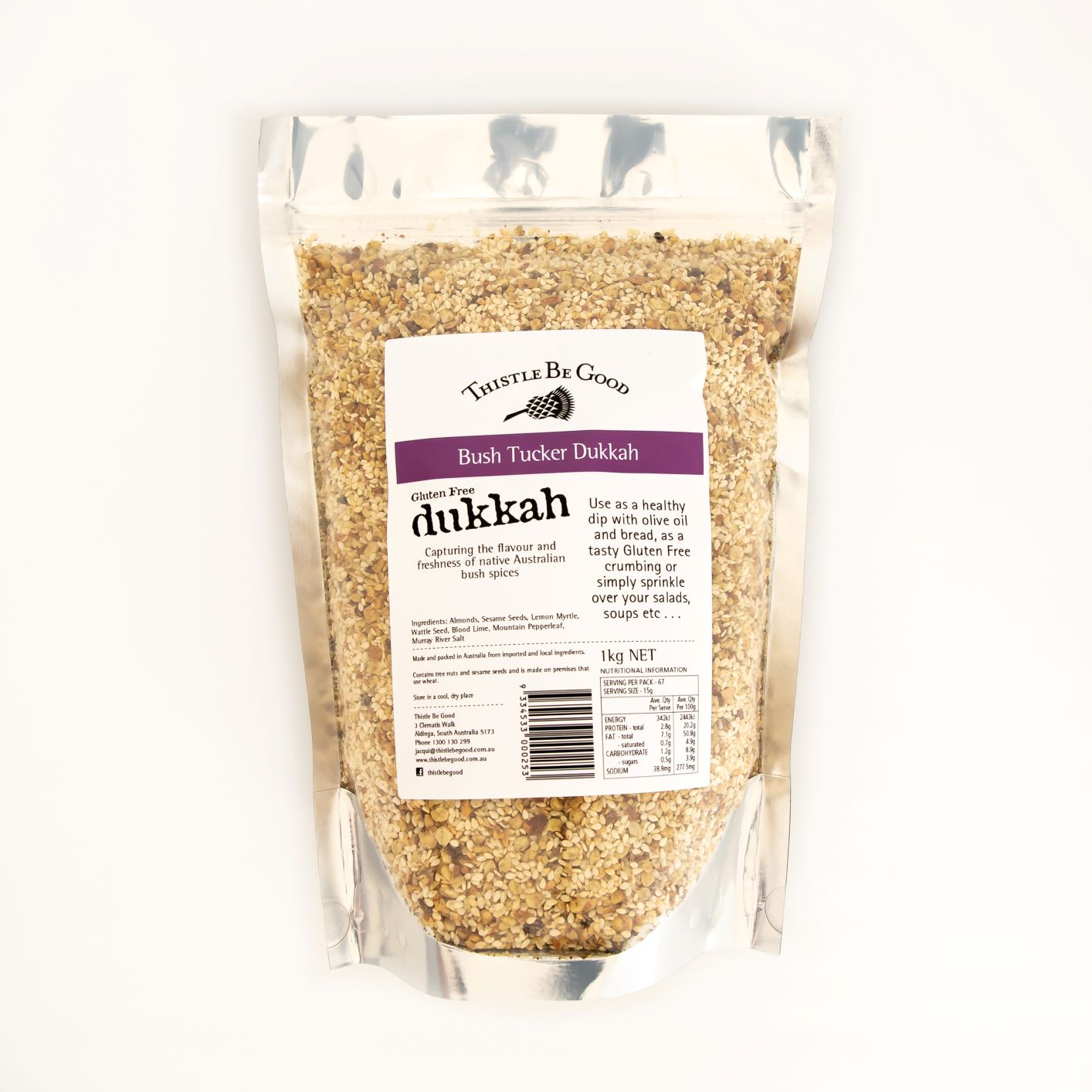 Traditionally served as a nibble with bread and olive oil, I love this when used as a GF light crumbing on chicken or fish – but is amazing when used with kangaroo or lamb.  Sprinkle over salads or roast veggies.
Contains Australian wattle seed, lemon myrtle, blood lime and mountain pepperleaf as well as freshly roasted and crunchy Australian Almonds and nutty sesame seeds.
GF Vegan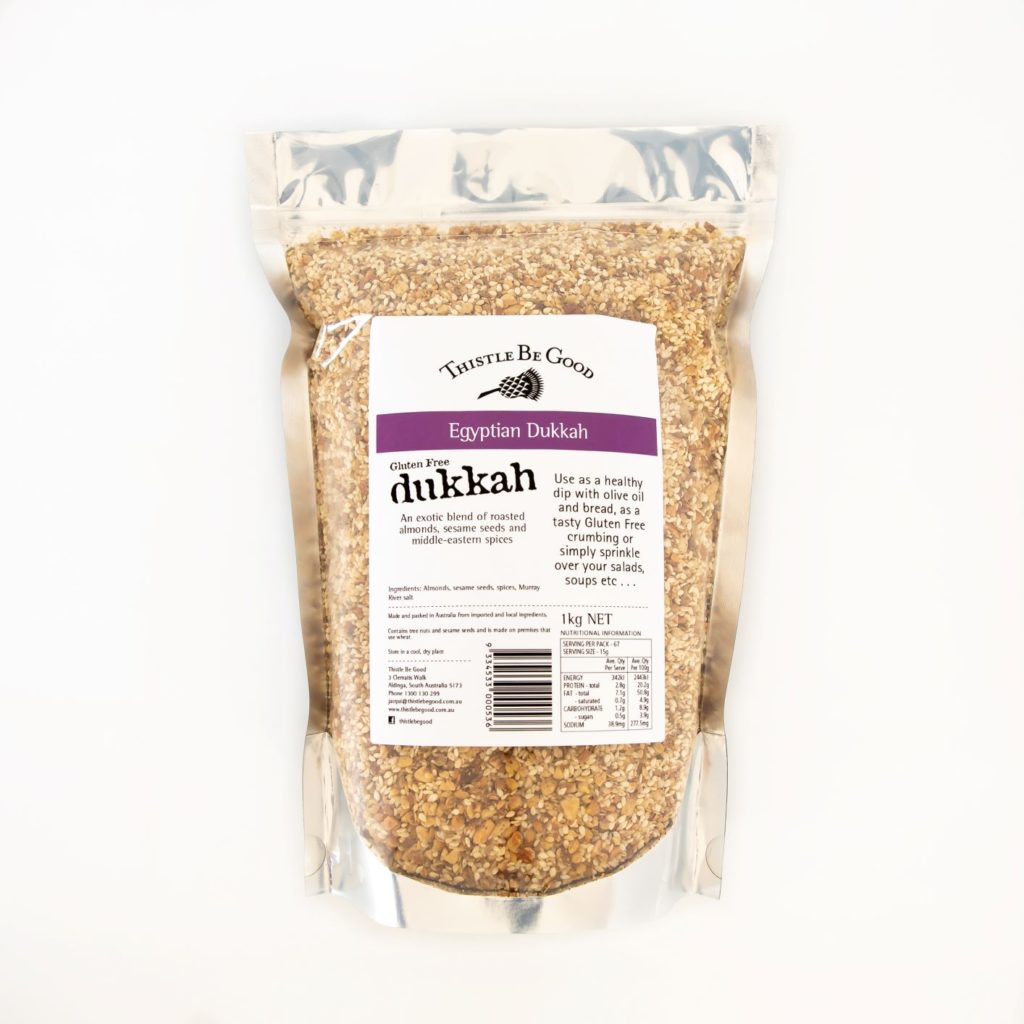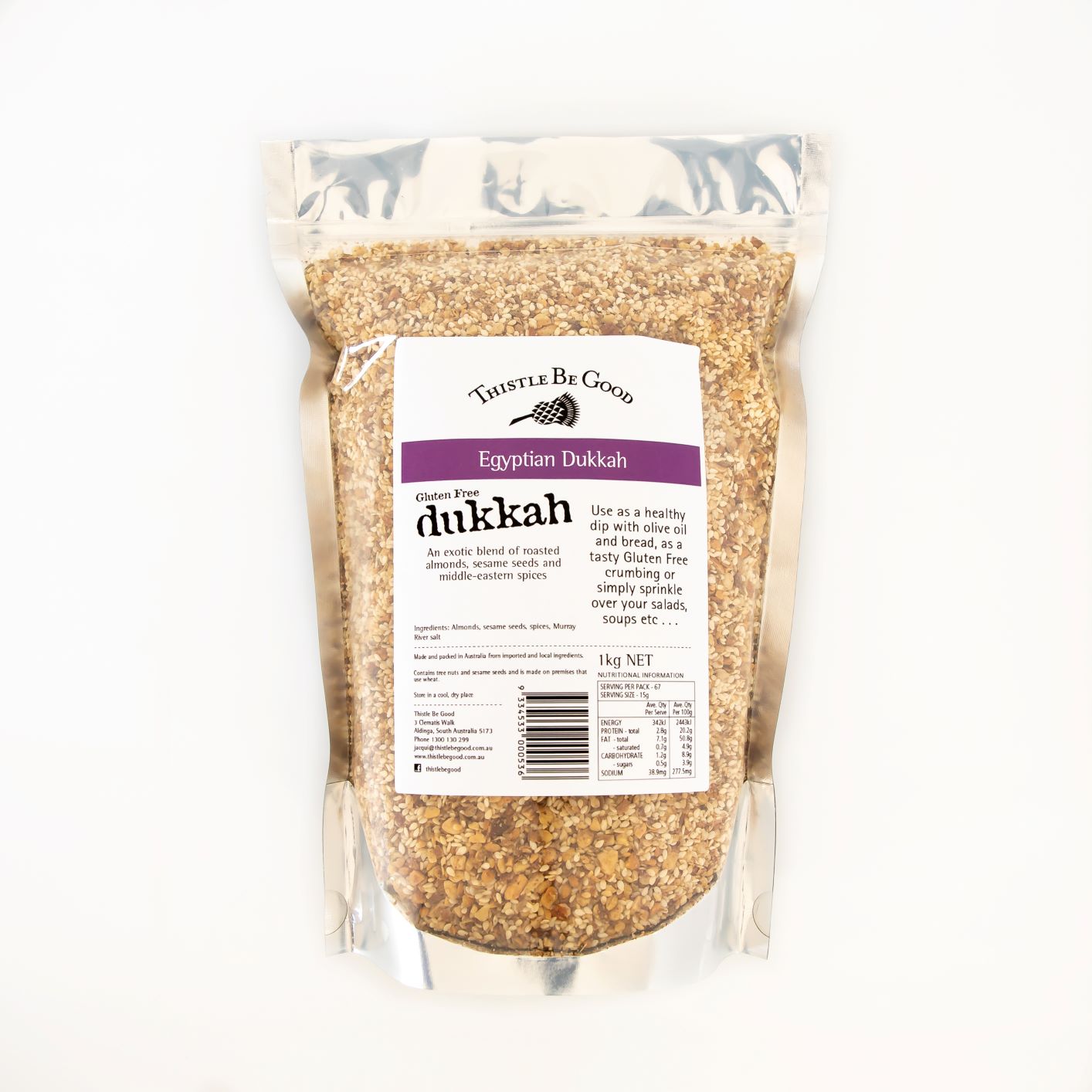 This is the traditional version; dukkah originates in Egypt.   Traditionally served as a nibble with bread and olive oil, I love this when used as a GF light crumbing on chicken or fish or sprinkle over salads or roast veggies or indeed smashed avocado! 
Contains freshly roasted Australian almonds, sesame seeds, and fragrant spices;  crunchy and delicious .
GF Vegan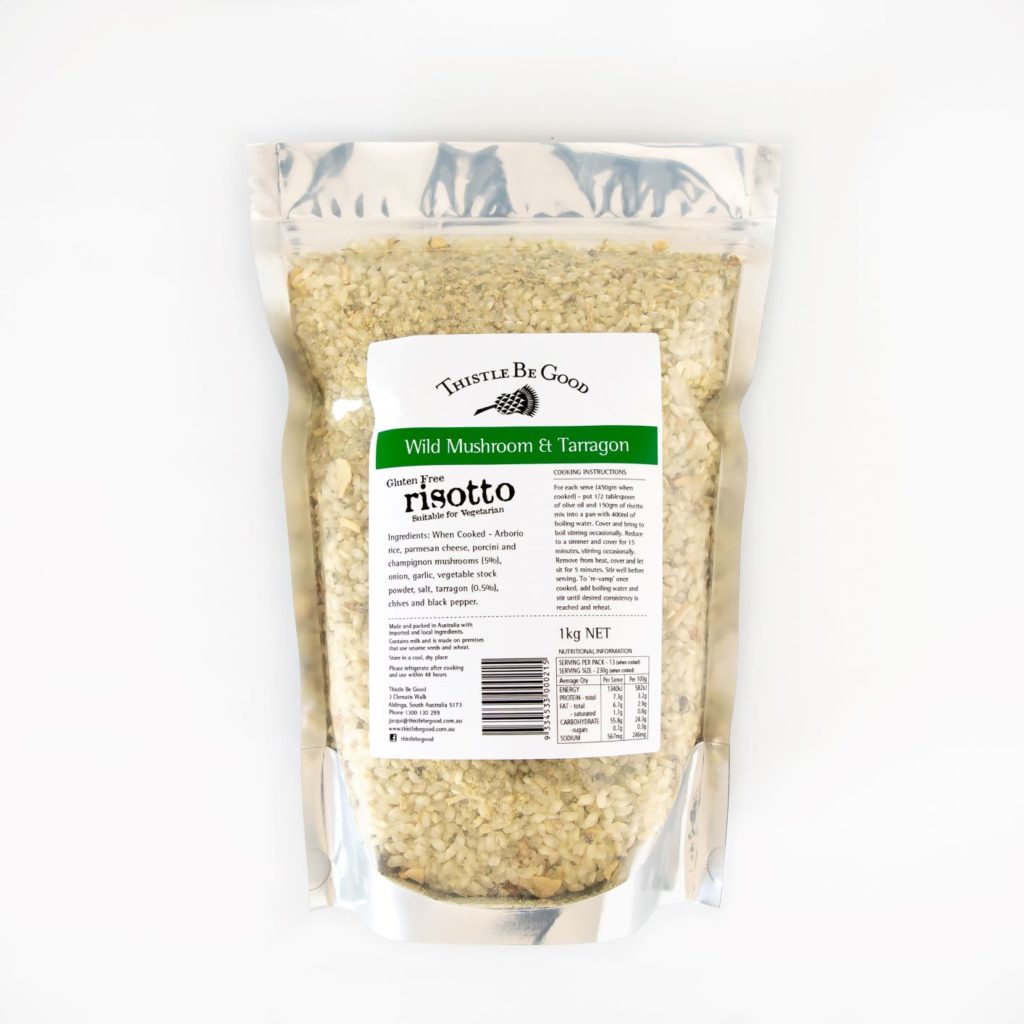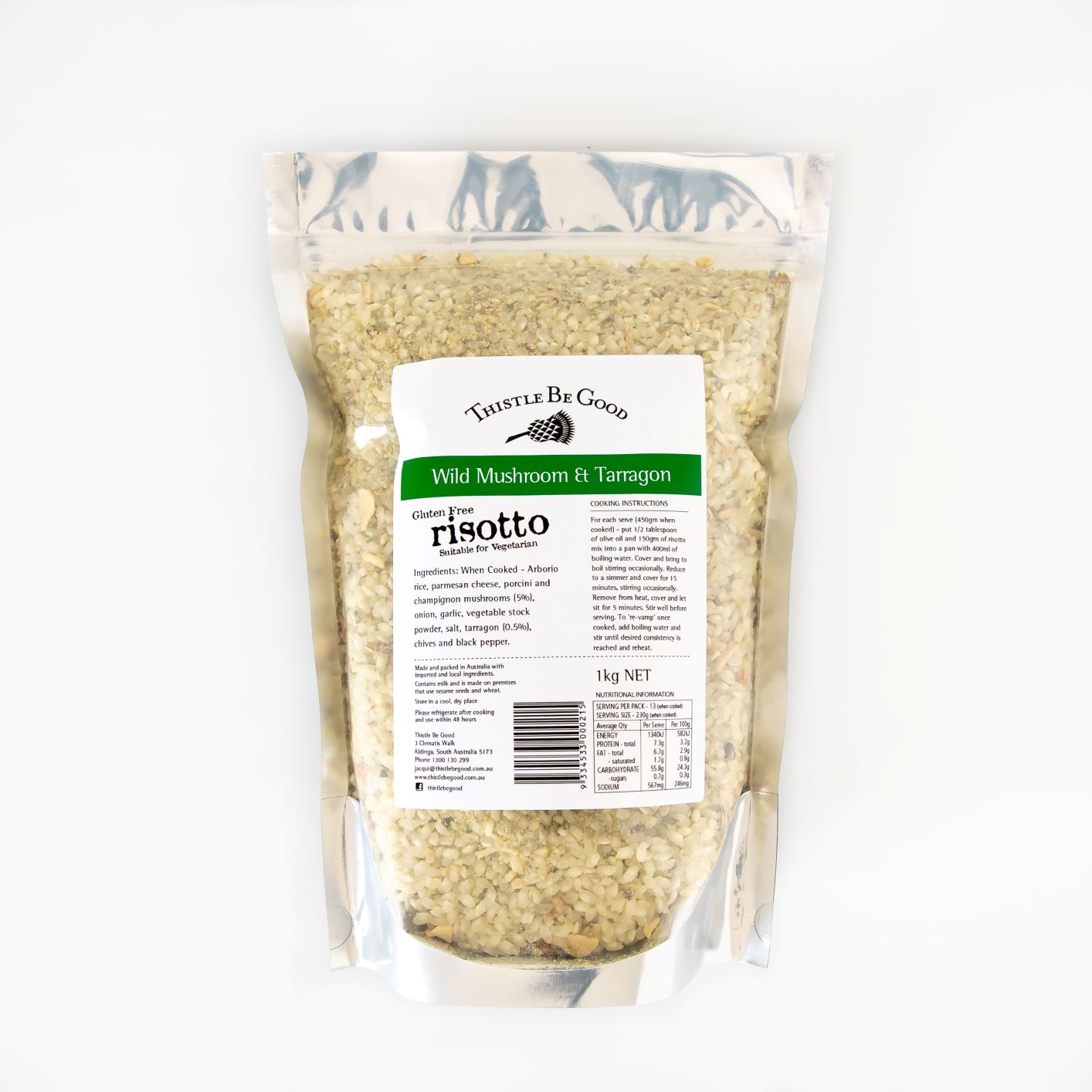 Risotto Wild Mushroom & Tarragon
Contains Porcini and champignon mushrooms and parmesan cheese – very comforting! Perfect for making arancini or risotto balls. So easy for anyone to prepare – consistency is consistent!
1kg makes 2.7kg
GF Veg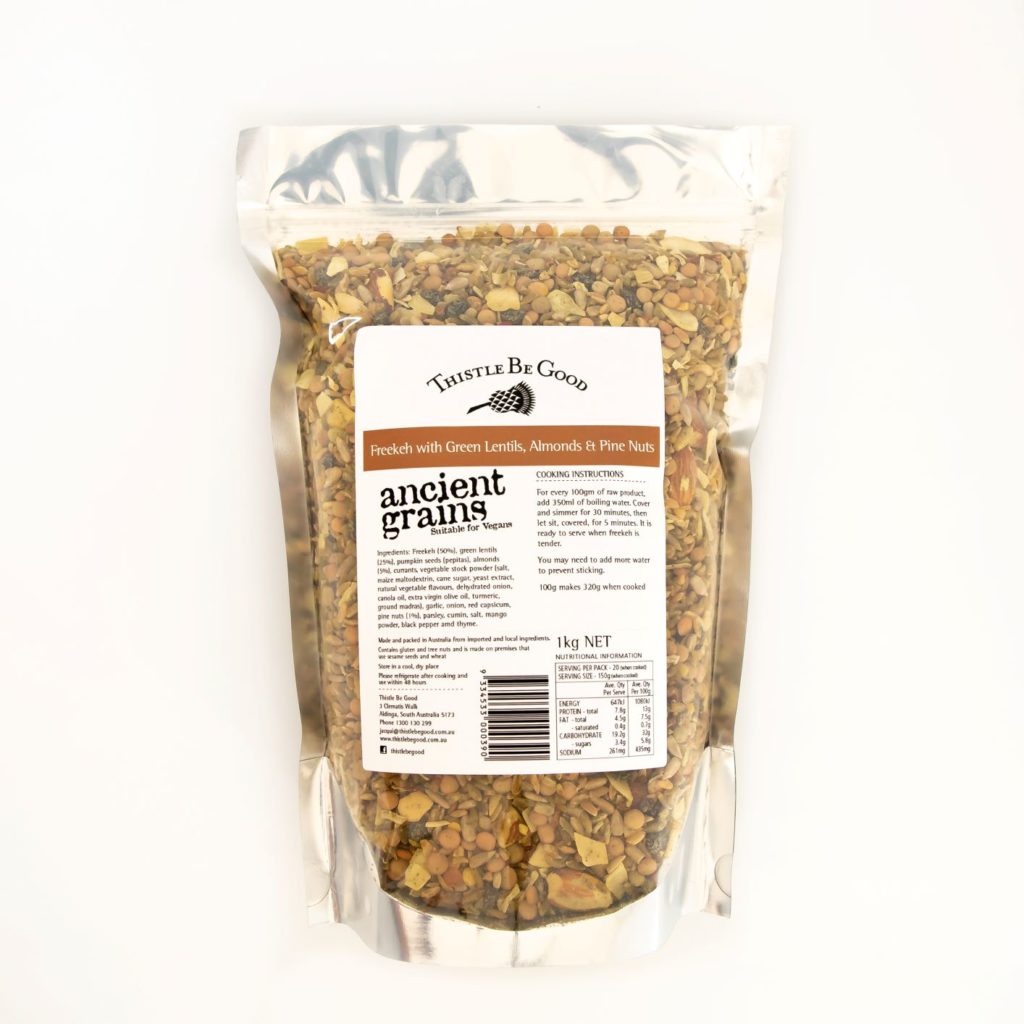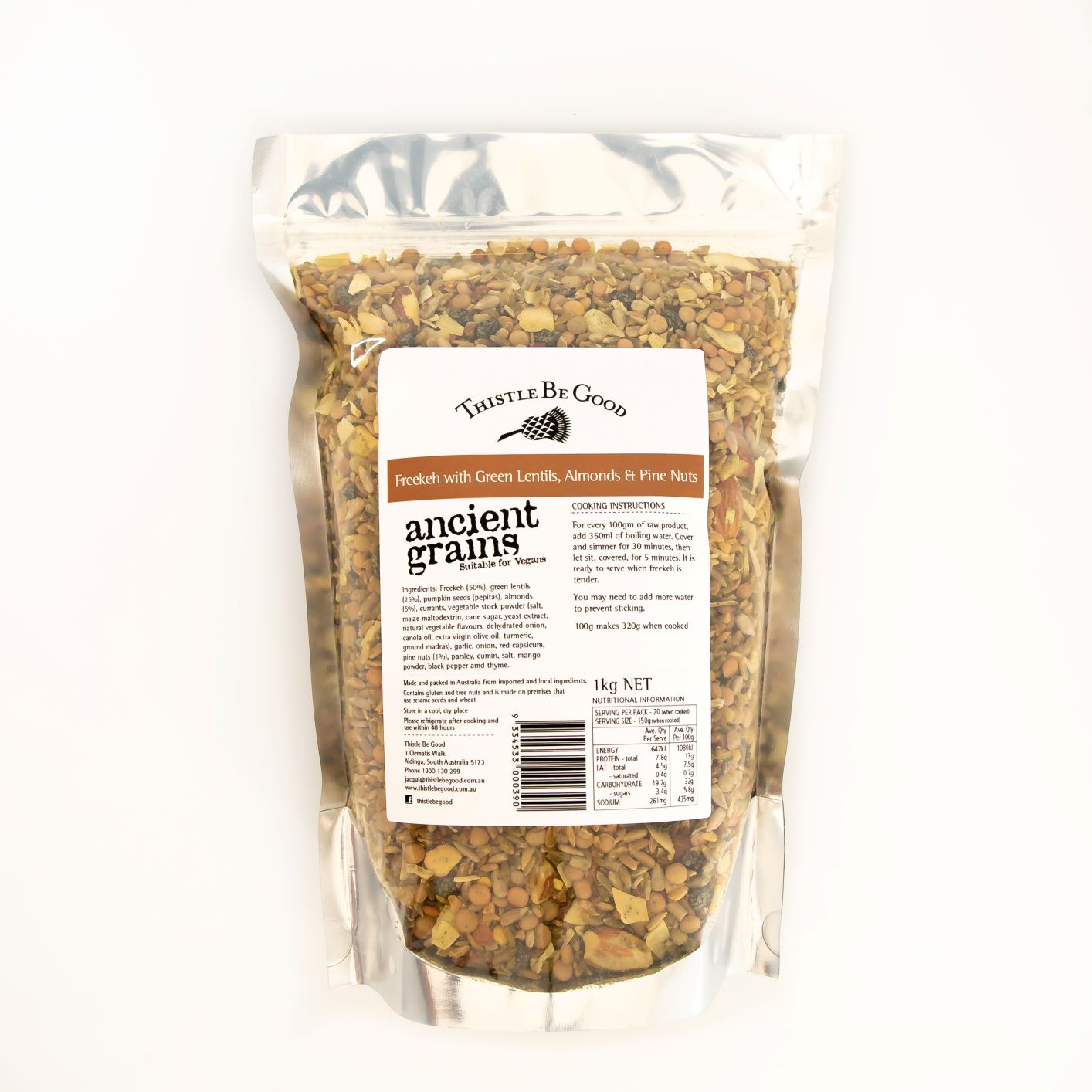 Freekeh with Green Lentils, Almonds & Pine Nuts
Nourishing and delicious freekeh (cracked green wheat) with high protein green lentils. This is chock full of goodies! This has to be tasted to be believed!  Amazing when served with lamb or fabulous served as a side or a main for Vegans or Vegetarians.  Mix through roast veggies or allow to cool down and mix through salads.  Our biggest selling Food Service product.
1kg makes 3kg!
Vegetarian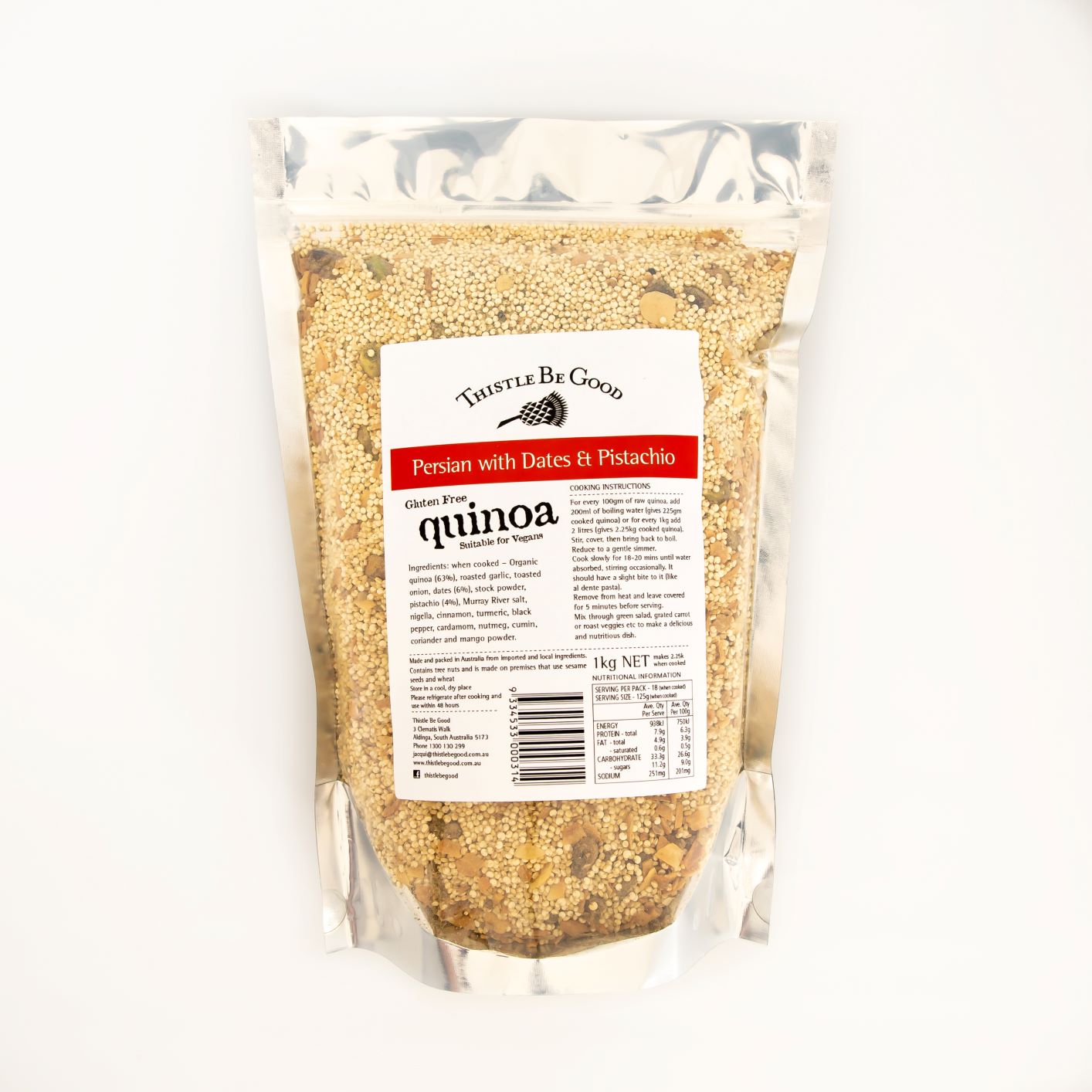 eQuinoa Persian with Dates & Pistachio
Chock full of goodies and flavour.  High in protein, mix it through a big green salad with goats curd or fetta.  Serve hot or cold, depending on weather.  Great as a side with chargrilled chicken or perfect for Vegans or Vegetarians
1kg makes 2.3kg
GF Vegan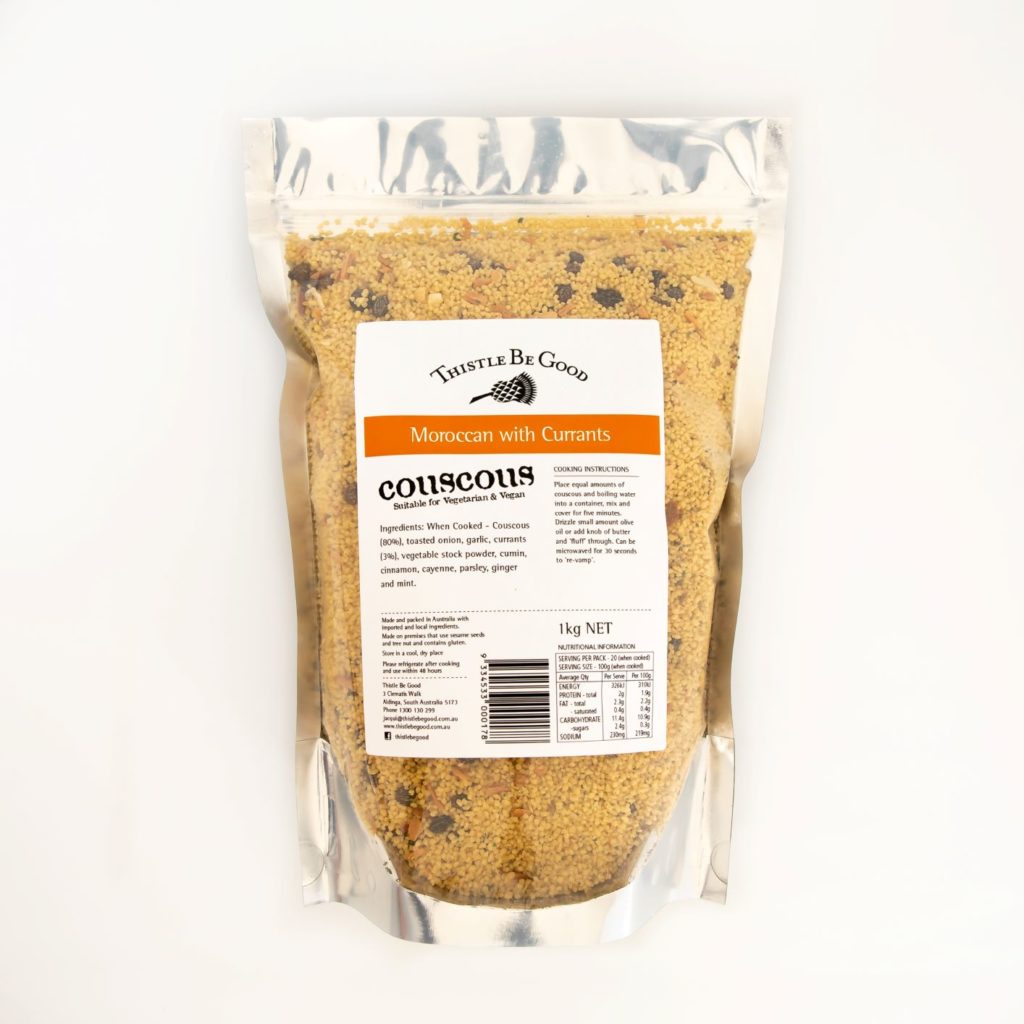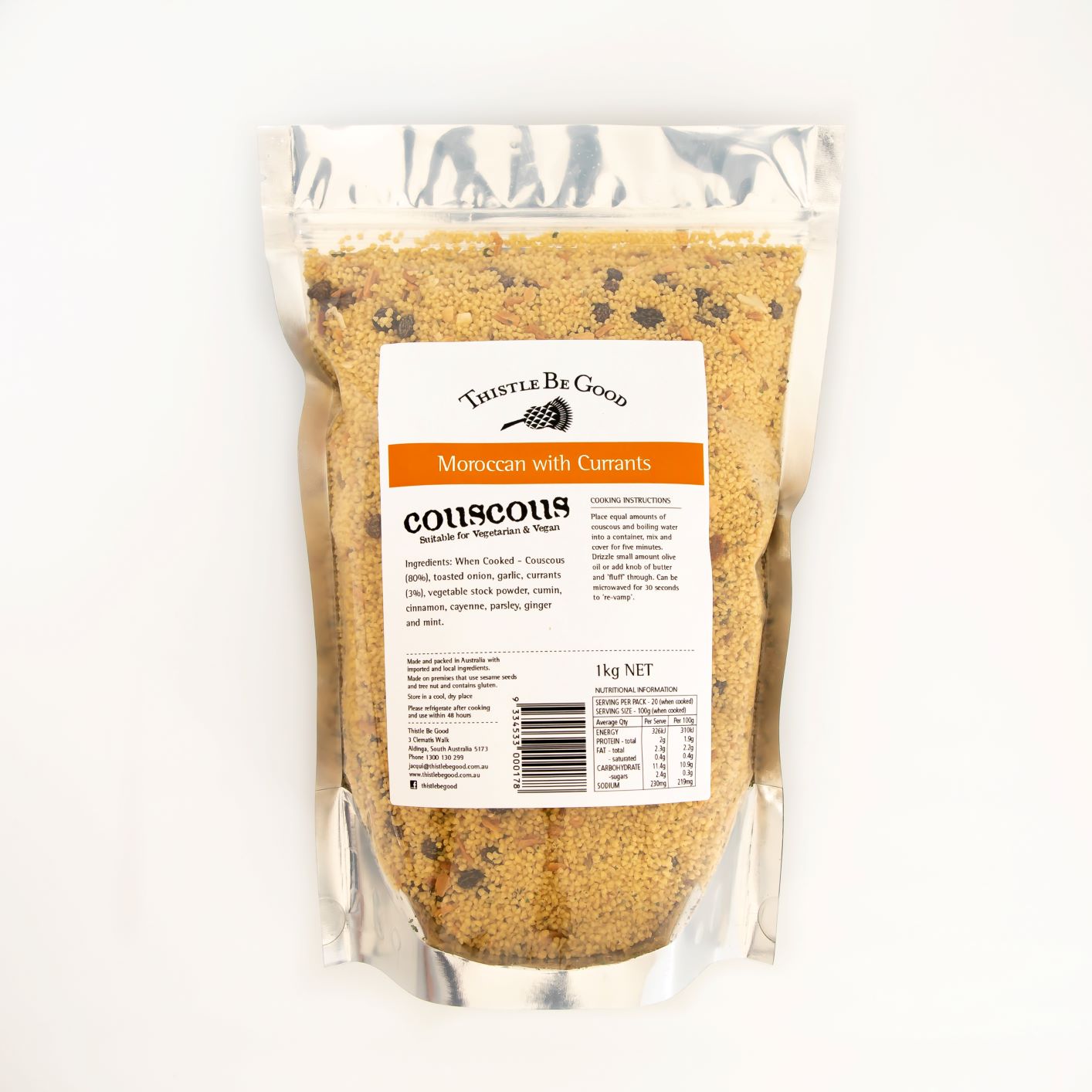 Couscous Moroccan with Currants
Just a little bit of warming spice and juicy Australian currants!
This requires no cooking; simply add equal amounts of boiling water, cover and leave for  few minutes then fluff with a fork – anyone with a kettle can make this!
1kg makes 2kg
Vegan