Freek(eh)ing Delicious Soup!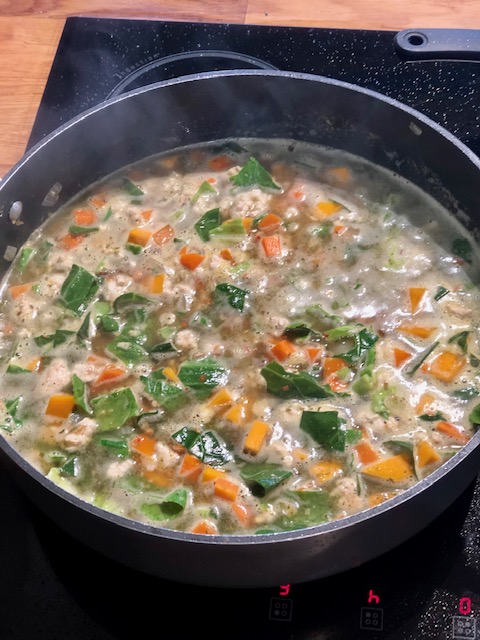 It's soup weather!  I love making (and eating) soup!  Lunch or dinner, I really don't mind!
I've been making a super-easy and delicious soup recently using a box of my Freekeh with Green Lentils, Almonds &  Pine Nuts. It has the protein of the freekeh and lentils with the occasional crunch of the almonds and the ever-so-subtle sweetness of the currants!   This makes quite a big batch as I'm a 'cook once, eat a few times' kind of girl; my freezer is my friend.   You can also just use whatever veggies you have in your fridge that are needing to be used up!  No veg is unwelcome in soup!  I also add some minced chicken or pork (500g for this quantity) if we're having it as our main meal; I have a hungry teenager!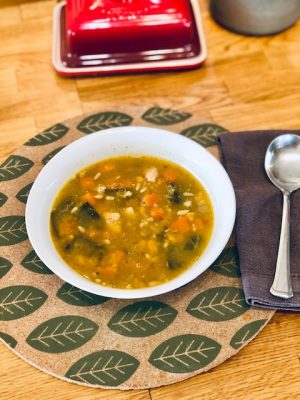 Recipe below:
1 x onion, chopped
3  x carrots, peeled and diced
1 x cup Pumpkin (any type) diced
4  x large leaves of silverbeet, cabbage or similar, chopped (optional but I love my greens!).
2 litres of water
1 x 240gm box of Thistle Be Good Freekeh with Green Lentils, Almonds &  Pine Nuts 
3  x stock cubes (I like chicken but anything is fine)
I simply sauted the chopped onion in a little bit of olive oil (you can use any oil or butter).  Once soft, add everything else (the diced veggies, the water, Freekeh mix and stock cubes).
Stir around, put the lid on and bring to the the boil.  Reduce to a simmer and cook for 45 mins.
Season (salt and pepper) if you wish.  Serve and enjoy!