Salmon salad with Char-grilled veggies, avocado and Warm Spiced Dukkah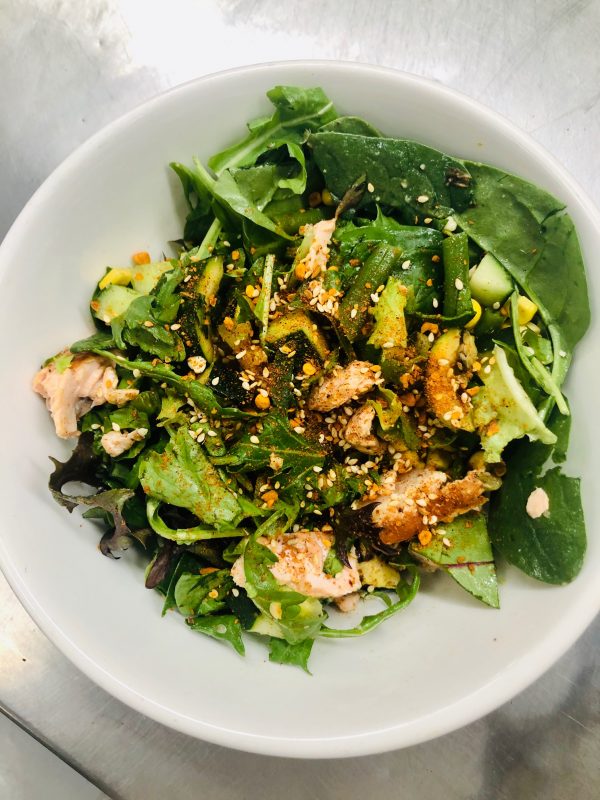 Do you love salmon salad?  I certainly do; it's such an easy and tasty fish to use; I love it hot or cold.
Last night was one of the first warm evenings here in SA so it had to be BBQ!  Looked in the fridge and decide, yep, salmon salad for dinner!
I sliced some zucchini length-ways and grabbed a corn cob.  Threw them into a big bowl with a bit of olive oil and salt and pepper then put on the hot grill to char-grill slightly.  Once cooked, I cut the corn off the cob and chopped up the zucc and threw it back into the big bowl.
I steamed some green beans then plunged them into cold water then drained them and added to the bowl.
I put the salmon, again rubbed in oil, onto the hotplate and cooked until still a bit of pink left inside the fillets.
I then broke it up with my hands and added to the big bowl, along with a pile of salad leaves (incl rocket and spinach) and some diced avocado.
I then drizzled on a little of a beautiful lemon olive oil that I get from Pendleton Estate, here in SA.  It's called Citrus Press – Lemon Agrumato which means that whole lemons are crushed with olives during the first cold press; it's amazing and is my simple 'go to' dressing.
Mix together then serve into bowls.  I sprinkled on about a teaspoon (don't need much) of our Warm Spiced Dukkah to serve.
Wow!  So delicious and so good for you! The photo is the lunch that I had today at work – living large!
To serve 4, you'll need:
Salmon fillets x 4
Zucchini medium x 2 – sliced length-ways
1 sweetcorn
Couple of handfuls of green beans
Salad leaves of your choice
Half and avocado
Lemon olive oil
Our Warm Spice dukkah – buy here
Enjoy, yours deliciously, Jacqui