We had loads of fun a couple of weeks ago when our very talented photographer (Emily Shepherd from Studio E) came and played for the morning!
We needed to get some 'Lifestyle Shots' and she did a sterling job!
These shots were for a promotion that we have on Lifestyle.com.au only until this coming Sunday the 27th!  Click on this link and see if you are lucky enough to win one of our free Quinoa Packs (1 of each of the 3 flavours)!
Here's Emily in action!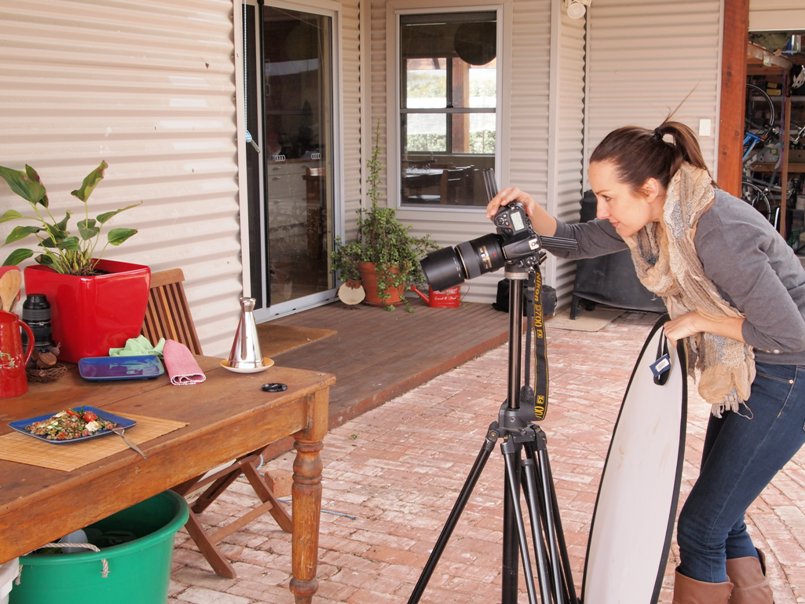 We did lots of shots inside and out – the sun was being a tease and kept coming and going but we got some great images!
Our Production Manager, Ben was a fabulous help.  As he is a qualified chef (Hilton trained!) he prepared all the goodies and made them look so beautiful.
He even came in handy when it came to holding things for Emily – multi-talented!
One of my favourite pics of the whole day is of me and my gorgeous Mum, Rita.  She popped in whilst we were hard at work (yea right – it was too much fun to be work!) and I was able to get some shots with her – precious!
Here's some more shots to tantalise your tastebuds – all of our quinoa, presented different ways.
I hope that you enjoy seeing these pics and getting a little insight into some of the things that we do here at Thistle Be Good!
If you would like to easily get hold of some of our quinoa, please go to our online store and order – only $6 freight anywhere in Oz or free for orders over $100 – click here – http://bit.ly/1a683k6
Thanks for reading and best wishes, Jacqui Good