What's in season for Spring?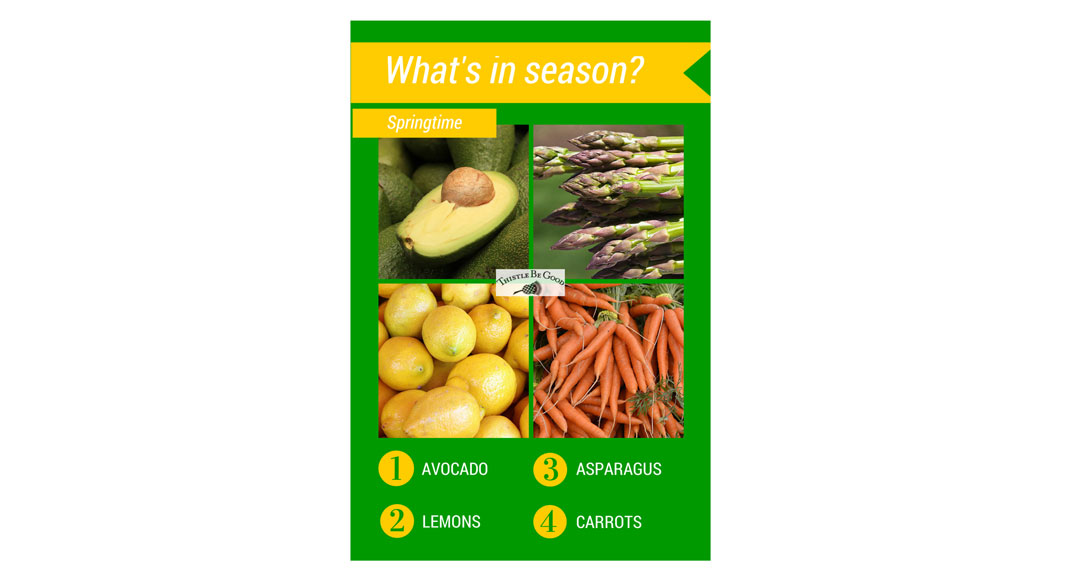 Look at what's in season for spring! It's just starting to warm up now and it is an exciting time of the year for our palate as we get a range of new seasonal fruits and vegetables to cook with. Here is a selection of four that I particularly love to add to the Thistle Be Good range of products.
I love to add diced avocado to any of the couscous or quinoa blends; it just works!  It's such an easy thing to make such a healthy recipe!
Ooh, asparagus!  I always think that this is food for Royals – so tender and delicious!  Lightly steam and add to the top of the Grean Pea, Lemon and Mint risotto for a dish fit for king!
Lemons, well, what can I say?  Anything is better with a squish of lemon juice I think!  Especially the Sundried Tomato and Kalamata Olive quinoa when made in to a delicious gluten free tabouleh!
Carrots are a staple in our house every season – we love them!  Steamed in the winter and grated raw in salads in the summer.  My boy loves to munch on them and gets one every day in his lunch box – no wonder his hair is red! lol
Enjoy the beautiful Spring veggies every way you can – your body will thank you for it!